For the June long weekend we decided to venture somewhere a little bit different. We wanted something fairly close by, as bubs is at that go go go age and also we needed something fun for all of us. For years we had longed to go on a houseboat and thought what a perfect time then in the middle of winter when it would be nice and quiet.
So I set off to do a little research on getting a houseboat fairly close to Adelaide CBD, for a reasonble price and importantly for the June long weekend.
I found a great company,
ozhouseboats
on the net and enquired about the sweetest little houseboat I had ever seen-
Little Miss
. The pick up area was from Murray Bridge so it was nice and close to the CBD. (1.5 hours drive)
We paid the $200 deposit as soon as Oz Houseboats confirmed the booking and then paid the remaining the following weeks, which was great for budget minded parents. We also had to pay $500 bond which was returned to us (minus the petrol money and $15 to pump the sewage) the following week. Keep in mind that the bond has to be made in cash on the day of departure.
As we were leaving on the Thursday prior to the long weekend, there was little traffic up the freeway and we had loads of time up our hands. We decided to leave bang on bubs nap time (11am - 1pm) as it would take us aprox 1.5hours to get to Murray Bridge. By the time we got there, we had time for lunch at the awesome
Murray Bridge Hotel
. They had a beautiful open fire in the dining area AND a kids play area (bonus!).
After lunch it was time to make our way to the marina to pick up
Little Miss.
Day One
I just want to point out, that if you do ever get a houseboat and the pick up time is late in the day- book an extra night, particulary if you are travelling in the winter months where there is no daylight saving. Luckily we got an extra night free through the SA tourism promotion. As pick up time for us was 2:30pm, by the time you load all your gear, have an induction from the instructors and then "set sail" it is almost dusk. River laws state you cannot drive your boat at night and you must find somewhere to moor 1 hour prior to sunset.
For us it took an extra 30 mins to make up the porta cot (very important if you want to keep little busy bodies in one spot) and to do a quick child proof check. Ella had just started walking so anything waist height needed to be moved, locked or safe. I recommend either some packing tape, rubber bands or clothes line string to tie things out of little hands reach. And in a small area, try to keep things on the floor to a minimum. Ella took the standard 3 travel toys plus some dvds to keep her entertained.
Ella was so excited before we even took off!
The boat was so cute and had everything we needed. A full kitchen (better than the one at home!)
a good size bathroom, two bedrooms and a lounge area with dining table. Perfect! The boat was fairly new as well which made it even better. After a fairly in depth induction (pretty common sense things- not hard) we were off to find a spot to moor for the night. We found a spot just before The Murray Bridge itself.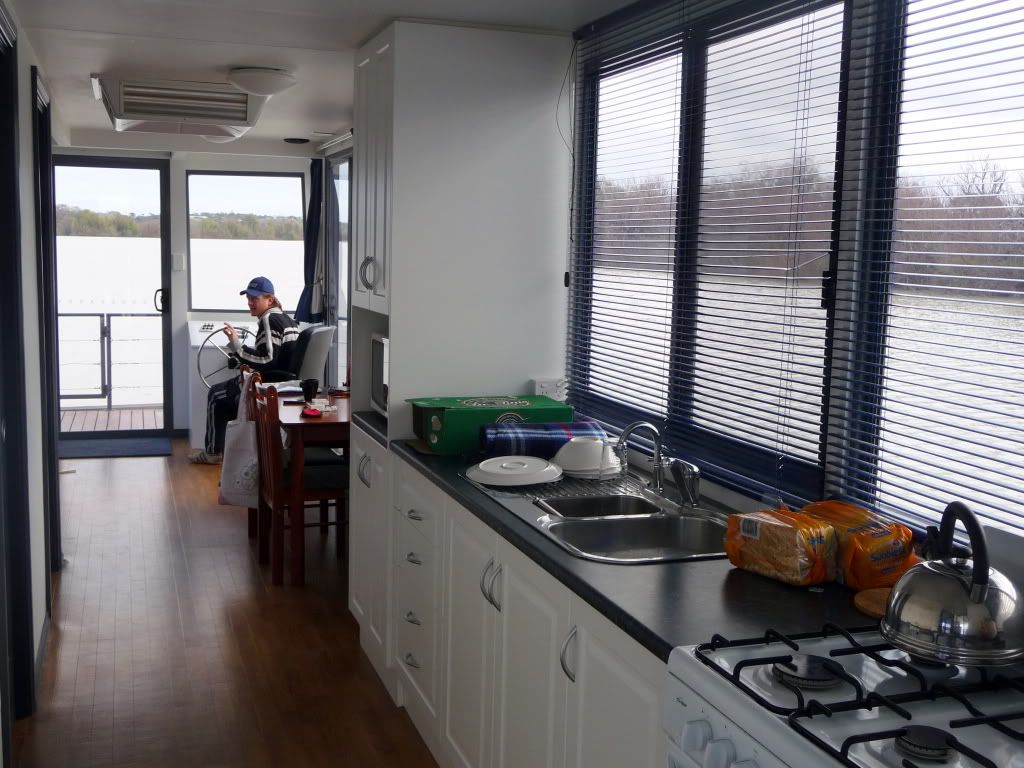 It was so refreshing not to hear dogs barking and traffic noise, just the occasional bird and the water lapping up on the boat. We cooked tea, had a few drinks and had an early night ready for a big day of travel the next day.
Sunset day 1
Day 2
What a sunrise, day 2
Wow, what a way to wake up and get introduced to the beautiful Murray! The sunrise was spectacular. So tranquil, and calm- I honestly thought I could hear fish snoring :) We cooked our breakfast of eggs and bacon on the supplied bbq (what else!) and took off for a solid day of sailing. Our aim for the 5 day weekend was to try to get to Young Husband (30km) and as our "ship" only went 8kms/h we had to make the most of the daylight. We were greeted by the locals which Ella loved. I think she may have scared more birds than we saw due to the squeels of delight.
Some locals
We set off towards Murray Bridge, past Avoca Dell and the beautiful Willow Banks. There weren't too many spots to stop as its all reeds and private property so we pushed on towards Mannum.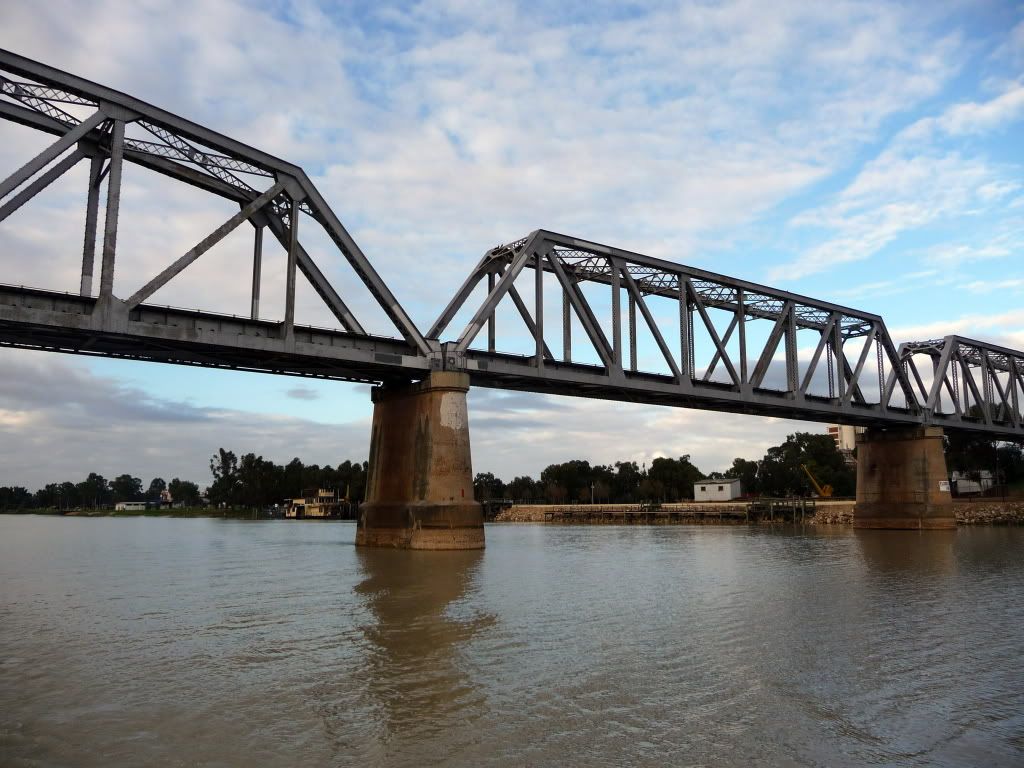 The Murray Bridge
And can I also say that if you are one of those lucky ones that owns a "shack" near Zadows Landing, I would LOVE to be friends with you (wink wink nudge nudge). These "shacks" are truely amazing. Gone are the days of a shack being like grandpa's shed- these are stunning architectural mansions.
Zadows Landing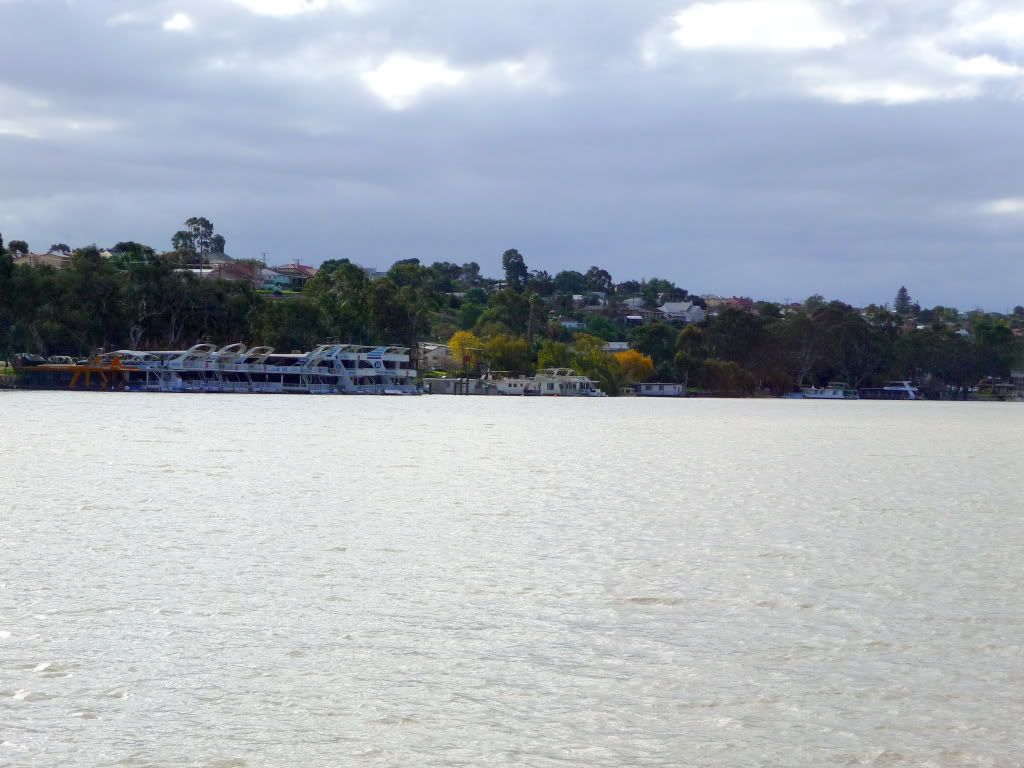 Mannum
We made it to Mannum just in time for lunch. We took all of our own food so we didn't really need to get many supplies. There are really only three places for you to stop for supplies in this area of the Murray River- Murray Bridge, Mannum and the General Store at Young Husband, so have all your meals prepared. Also for us, Ella is quite an active baby, so sitting in a pub or cafe isnt really an option sometimes. It is much easier to eat on board then go explore afterwards.
Mannum is one of my favourite towns in South Australia. The main street has all the provisions you need (which is lucky as I had forgotten the childrens Panadol!) and the cutest little antique and boutique shops.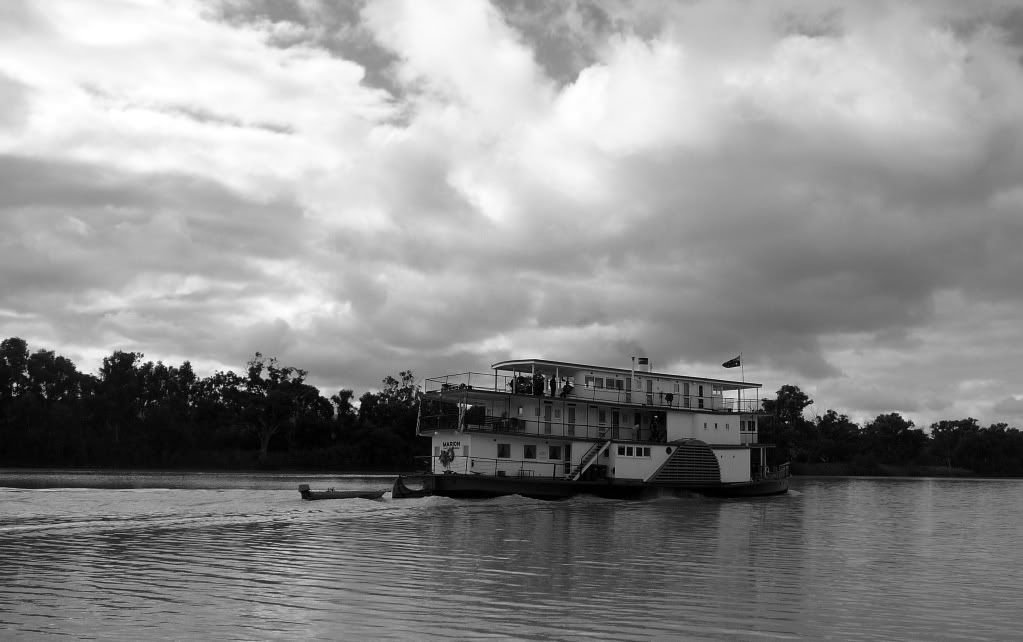 Mannum Paddle Boat
Landing at Mannum we were roughly halfway to our hoped desitination of Young Husband, and being the end of day 2 we were right on track (don't forget you have to include your return time too). We moored on the opposite side of the river to the town, and enjoyed another relaxing night. I found the portacot too cold for Ella to sleep in (why do they make them so low?) so we co-slept in the master bedroom while hubby was in the bunks in the other bedroom.
Day 3
Relaxing on deck, we set off again. One of the best things about this holiday was we were shut off from the rest of the world, no internet, no phones (no reception), and TV we had only near big towns- which was so refreshing. I find sometimes you forget the beauty of nature due to so many distractions we humans have now. You reall do need to stop and smell the roses sometimes.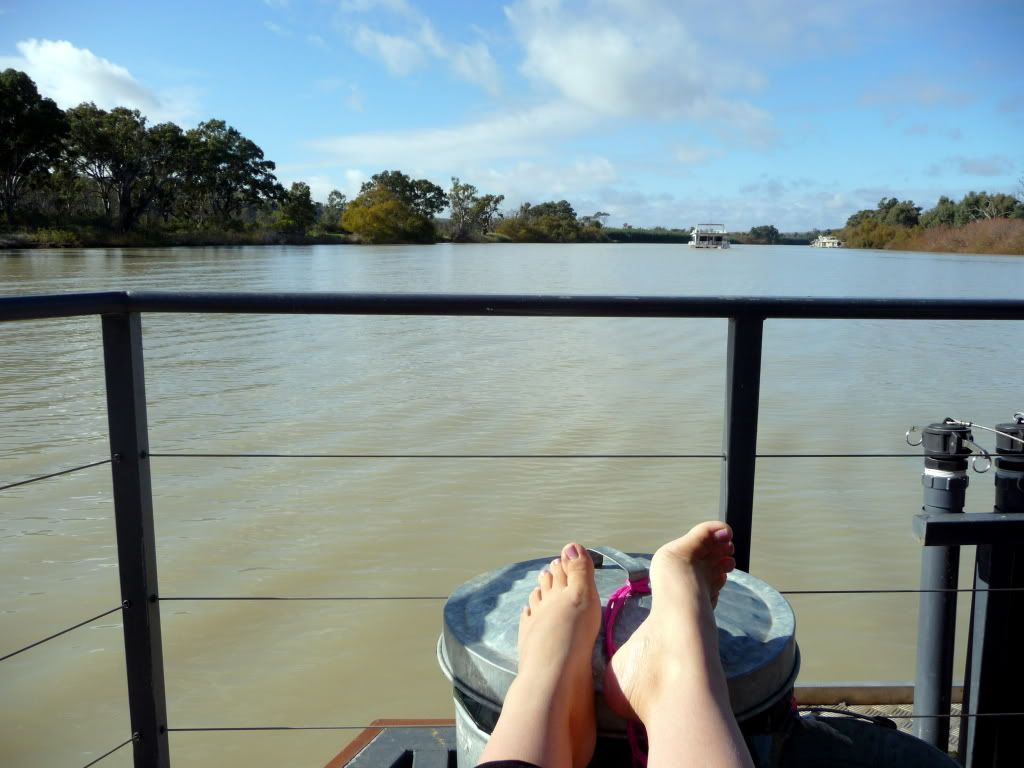 Off to Young Husband
Our destination today was Young Husband and by lunch time we had made it past Rocky Point and would make it to Young Husband general store hopefully by lunch. It was funny everytime we landed and moored somewhere, when we got off we felt like little explorerers on our own expedition.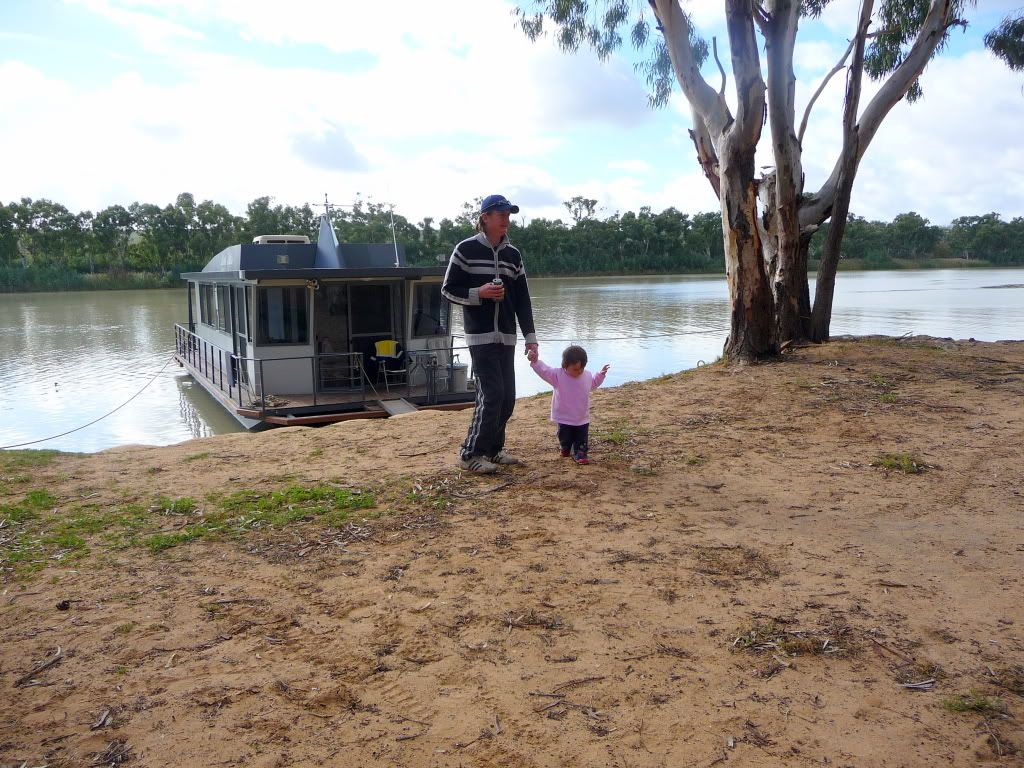 Landing at Young Husband
We stayed that night just a kilometre from the store as it was getting quite late and we had to moor before dark. We set up camp and had a fire on the banks that night. Heaven! We had a few drinks under the stunning country stars.
Day 4
Day 4 was a pretty uneventfull day, I was a little sore from the night before and with time on our side we decided to stay for the day and relaxed. However this meant we had to almost sail the whole journey back tommorrow. Remember- its great to go far BUT you do need the same amount of time to go back as well.
Day 5
We HAD to set sail for home today, just as were getting into the swing of things (always the way). We needed to get back as close as possible to the marina before dark as we were due to hand over the boat the following morning. It was a full day of sailing. David sailed as I made breakfast and lunch at the helm.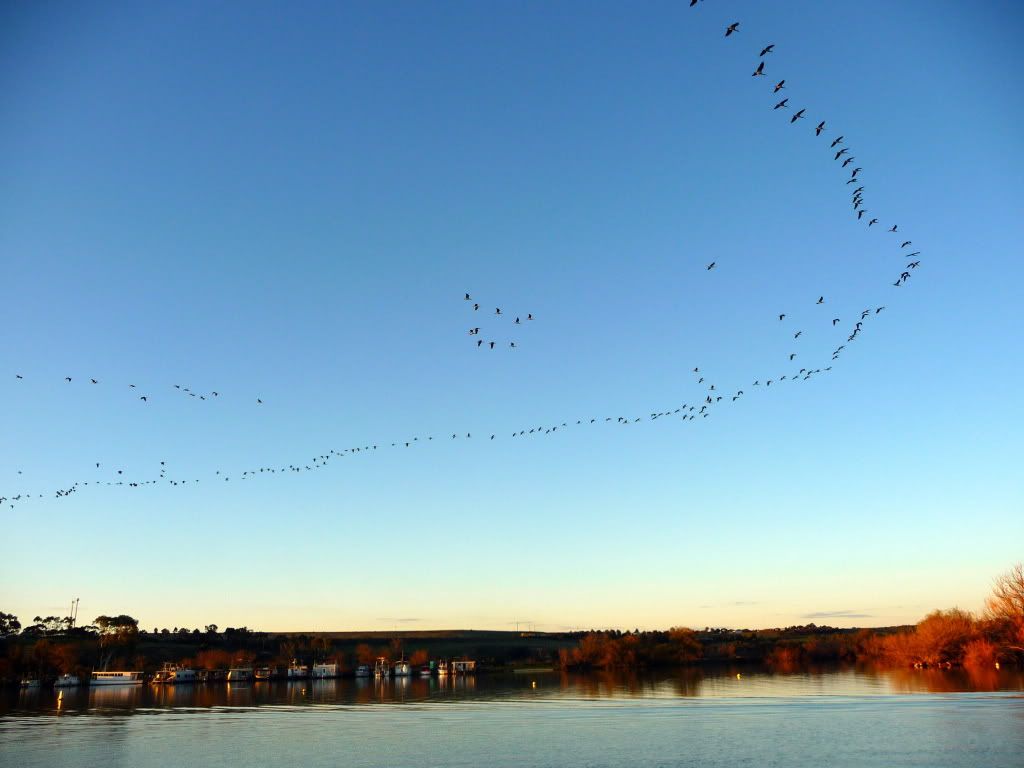 The birds were flying home and so were we.
We made it back to Murray Bridge in time for the stunning sunset and for me to prepare for tea. It was a fitting end to our beautiful holiday.